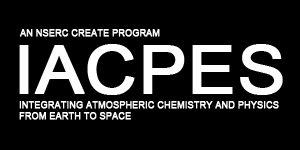 The IACPES Training Week consists of three elements:
IACPES Training Week – August 20 – 24, 2012
IACPES Training Week – June 10 – 14, 2013
IACPES Training Week – June 9 – 13, 2014
IACPES Training Week – May 25 – 29, 2015
IACPES Training Week – June 13-17, 2016
1. A three day course of integrated topics in Atmospheric Chemistry and Physics From Earth to Space is for all trainees supported by the program, and also for undergraduates, graduates and PDFs who wish to attend. It will be held mid-late June, at York University. (In 2012, the first year of Summer School was held Aug 20-24). Topics that will be covered include (on a rotating basis):
Chemistry of the natural and polluted atmosphere

Basic chemical kinetics

Measuring atmospheric composition from ground and space

Satellite instruments and measurements

Aircraft systems

Radar & wind profilers

Basic meteorological instrumentation

Instrumental methods of analysis

Regional and global modeling, meteorology

Radiative transfer

Spectroscopy

Planetary atmospheres, etc.

 
2. The IACPES Symposium – is a one-day symposium for trainees, applicants, collaborators and the wider community. It will be held mid-late June at York University. Abstracts will be accepted one month in advance and a program book made available. The day will begin with research presentations by all graduate trainees. This will form part of trainees professional development. The afternoon will be open for presentations by investigators, collaborators and the wider atmospheric community. The goal of the symposium is to co-locate all students and participants in the program, to foster discussion of future research, opportunities for exchange, and professional networking.
3. Laboratory and Field Training Modules – This IACPES week held mid-late June will be capped with a day of hands-on training activities (½ day modules) that trainees and others will sign up for in advance. The training activities will take place at York University (and possibly Environment Canada). Some training modules will be open to any interested student who wish to attend, while others of a more specialized nature will be offered with priority to trainees in the IACPES program. Development of several modules is anticipated, not exclusive to the following list of possibilities (location):
basic air quality instrumentation (CAC-AQRS)

basic meteorology measurements (ESSE-Weather Station)

lidar measurements and systems (CRESS-Lidar Observatory)

aerosol mass spectrometry (Env. Can.)

smog chamber techniques (CAC-smog chamber)

satellite instrumentation (CRESS)

airborne measurement systems

computer simulations
IACPES trainees will attend modules outside their direct area of specialization.
Funding for this Program is Provided by NSERC.